Washington LLC
How to Start an LLC in Washington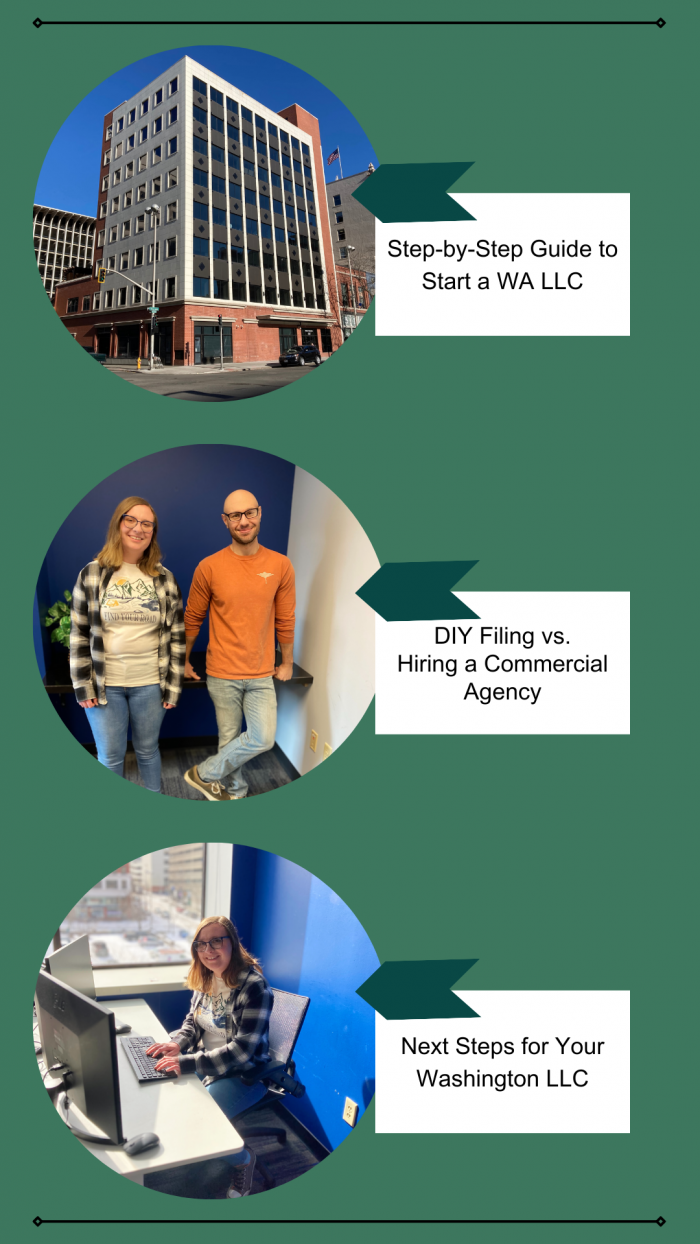 To start an LLC in Washington, you must file a Certificate of Formation with the Washington Secretary of State. This officially creates your Washington LLC. For the filing to be approved, a Washington registered agent must be appointed to receive service of process on behalf of your LLC. Additionally, your LLC must also acquire a Unified Business Identifier (UBI) and file an Initial Report with the SOS.
As local registered agents, we're here to offer support and guidance in a variety of ways. Here you'll find cost effective options to hire us to handle your LLC formation process, a step-by-step guide to tackle it yourself, as well as the details to contact our Washington-based team for help either way.
5 Steps to Start a Washington LLC
At Washington Commercial Registered Agent LLC, our business is dependent on the success of other Washington businesses. We trust that you know what's best for your company, and maybe what's best isn't hiring us to handle everything for you. If that's the case, good for you. We admire the DIY entrepreneurial spirit and have provided a Washington LLC formation guide below. While it isn't legal advice, it is pretty handy.
1. NAME YOUR COMPANY
Before you begin any legal steps with your business, make sure you have a name you're proud of, is legal, and is likely to be approved by the Secretary of State. We recommend searching for your Washington LLC business name using the "contains" and/or "starts with" features so your chosen business name isn't in use, nor is anything too similar already registered.
What are the name restrictions in Washington?
You must include in your company name a business identifier: Limited Liability Company, Limited Liability Co., LLC, or L.L.C. You cannot register a name that is already in use within the state or is too similar to another entity.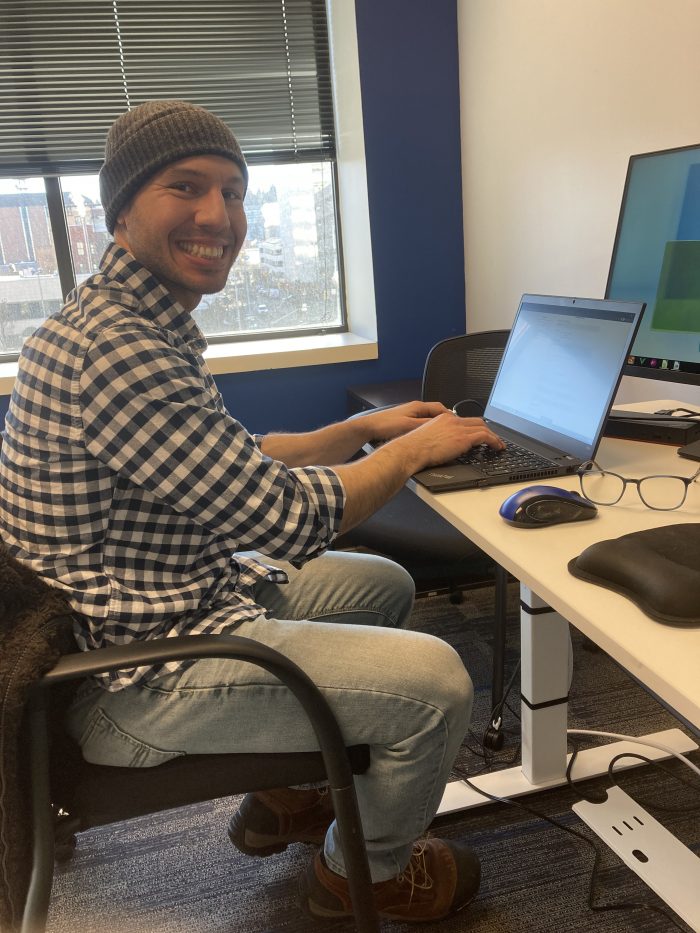 Ready to see if your business name is available in Washington?
Complete a Washington business name search on the Washington Corporations and Charities Filing System to see if your preferred LLC name is already in use for a Washington business.
2. FILE A CERTIFICATE OF FORMATION
To form a Washington LLC, you must file a Certificate of Formation with the Washington Secretary of State and pay the filing fee. Paper filings cost $180. Online filings are charged $200.
A Certificate of Formation is a legal business document that officially creates your Washington LLC. To file the certificate, you'll need to list company details including:
Company Name
Executor information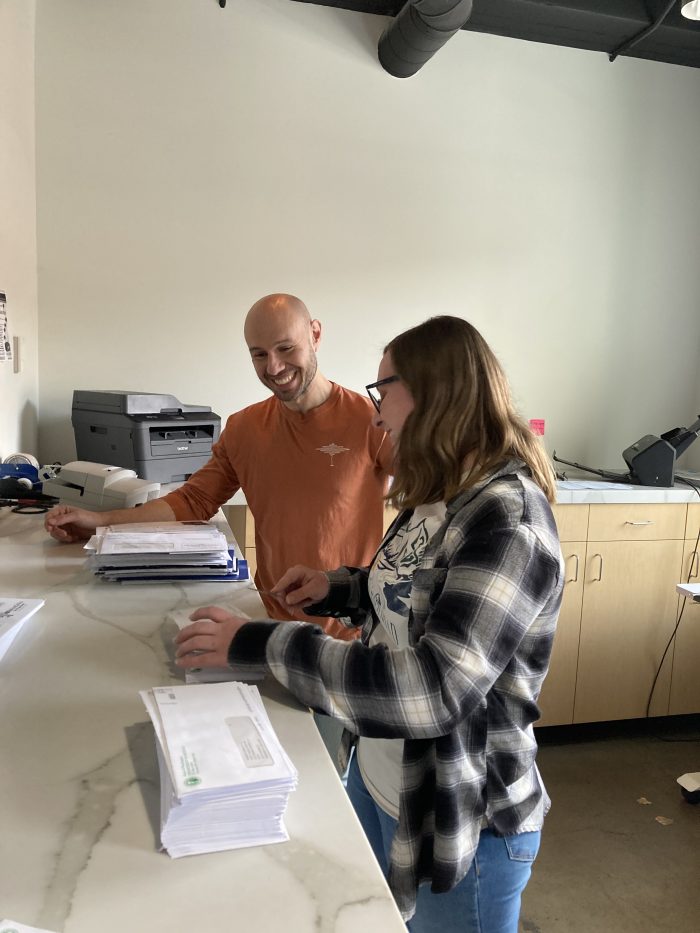 Are Washington LLCs private?
Generally, no. While the Washington Certificate of Formation does not require any information about the LLC's members or managers, the initial report and all subsequent annual renewal reports require that the LLCs members or managers (grouped together and called "governors" in Washington) be listed publicly. If you don't want individuals' names and details listed publicly for your Washington LLC, there is a workaround be creating two Washington LLC which manage (govern) each other. Read more on our page about Private Washington LLCs.
What is a Washington registered agent?
A Washington registered agent is designated to accept legal documents, service of process and official notifications on behalf of your company. Every registered agent is required to maintain a physical location within the state where certified mail can be delivered. Your agent's job is to ensure compliance with state law.
How long does it take to process?
Generally, the Secretary of State will process mailed documents within 25 business days. Online processing is between two and five business days.
3. WRITE AN OPERATING AGREEMENT
A Washington Operating Agreement is a business document that outlines the ownership and management of your company. In it you will designate your initial members, their membership contributions, and their ownership share. You will also delegate management responsibilities and determine how administrative procedures will be handled. As your business evolves, you can add dated and signed amendments to your operating agreement to indicate updates.
Do I file my Operating Agreement?
No. An Operating Agreement is an internal document. It is not filed with any government agency.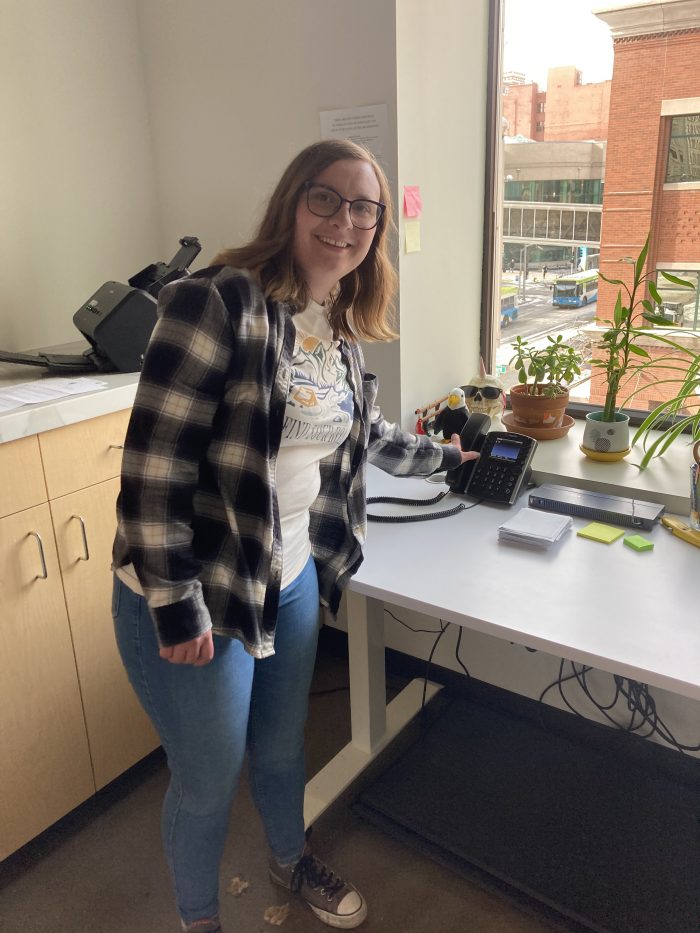 Pro-Tip: Clients who opt to have us form their Washington LLC get a customizable courtesy operating agreement automatically.
4. FILE YOUR INITIAL REPORT
After you start an LLC in Washington, you are required to file an Initial Report with the Secretary of State within 120 days of the official formation date. After this first report, you will also be required to file additional annual reports each year.
While the Washington LLC Certificate of Formation does not require members or mangers to be listed, the initial report does by requiring "governors" for your company be listed publicly.
Can I file an Initial Report online?
Yes, if you formed your LLC online. After formation is complete, you can access the SOS Initial Report page. Use your Application ID and Unified Business Identifier (UBI) issued during your formation to file the initial report.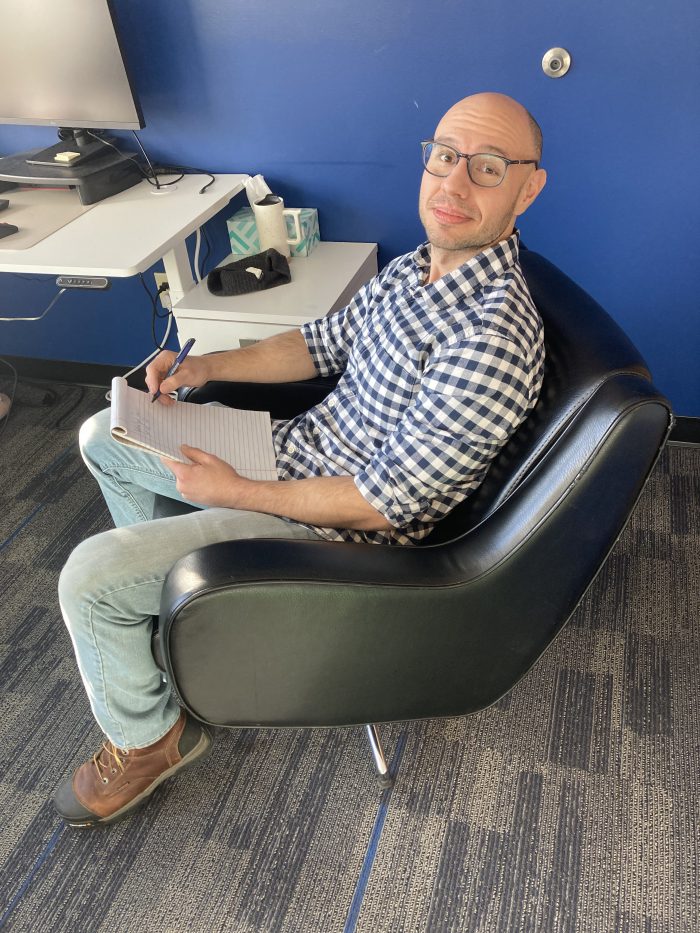 Pro-tip: Washington Commercial Registered Agent covers this for our clients as well. When you hire us to form your LLC, we'll automatically file your initial report as soon as your LLC is official and even cover the state's filing fee for you.
5. APPLY FOR A WASHINGTON BUSINESS LICENSE
In spite of its name, a Washington Business License (WBL) isn't actually a license. Its's a registration with the WA Department of Revenue and is required for nearly every business in the state. Any company that will hire employees or pay state taxes is required to have a Washington Business License. Many cities in Washington require their own city licenses and the WBL will registered your company in many of these citites. A WBL also allows your company to register for industrial and unemployment insurance, minor work permits, and trade names. You should not confuse the WBL with the licenses or permits required by various professions and industries, which are acquired through the WA Business Licensing Service.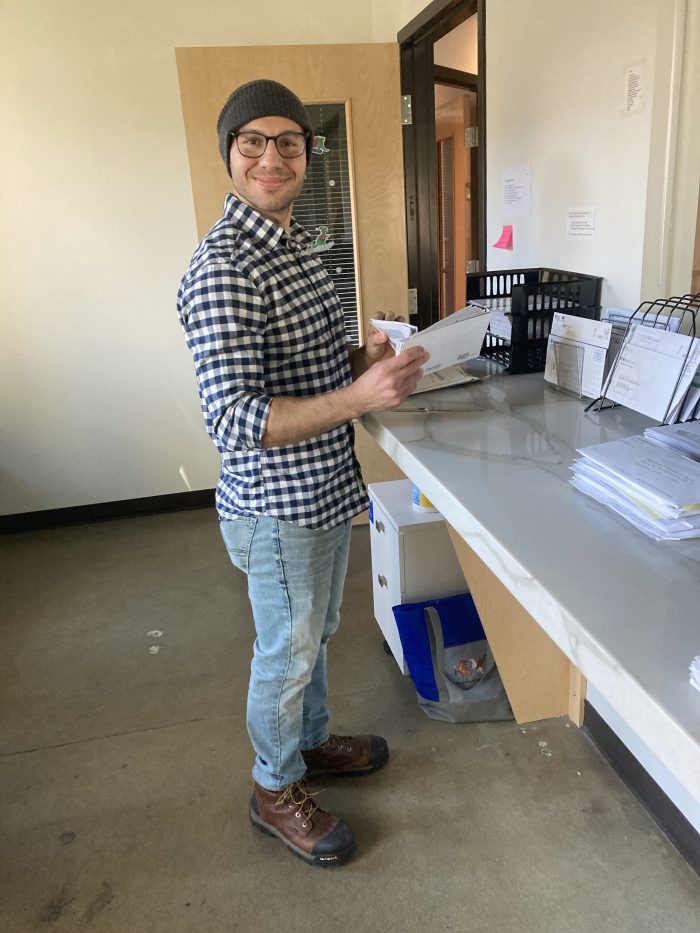 How do I apply for a Washington Business License?
You can apply either online or by mail with the State of Washington Business Licensing Service (part of the Department of Revenue). Mailed filings are processed within three weeks. Online submissions are processed within 10 business days.
Not all businesses are allowed to file online. The BLS maintains a list of companies that must submit a paper form.
Important Note: Be sure to file your Certificate of Formation with the Secretary of State before filing for your WBL. Both the Department of Revenue and the Secretary of State can issue a Unified Business Identifier (UBI), and if you submit the filings in the wrong order your company will likely be issued two UBIs, one from each agency.
How much does the application cost?
There is a fee of $19 for processing an WBL application. However, depending on what additional registrations you make (such as registering a trade name) the fee may increase. As well, the fee will increase in accordance with the city license fees if your business is located within certain municipalities in the state.
"I'd never owned a business before. I had enough to focus on getting inventory together, setting up payment processing, everything. I didn't have time for state paperwork. Washington Commercial Registered Agent took care of everything. I never had to worry. They did a professional job beginning to end. Thanks guys!"

Lucy N. Bellevue, WA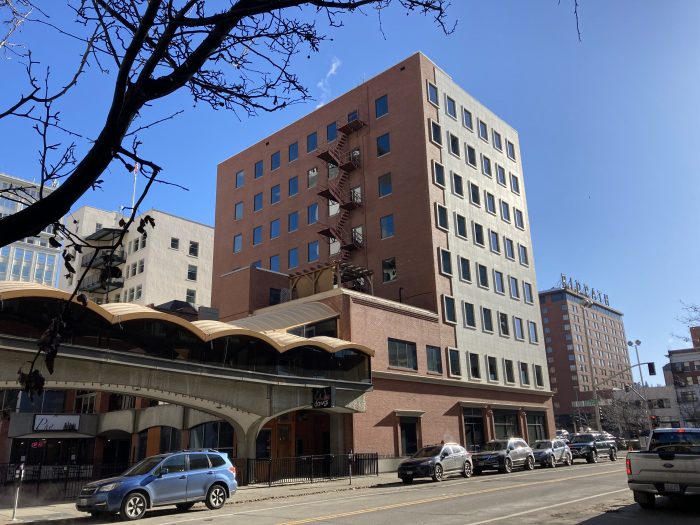 DIY vs. Hiring Washington Commericial Registered Agent
When it comes to the cost of forming a Washington LLC, the rock bottom cheapest option is to do everything yourself. However, DIY doesn't always give you everything a new business may need, like the privacy that comes with a professional address and a commercial registered agent.
See how DIY stacks up to our service:
DIY LLC Formation
$210+

WCRA LLC Formation
$359

Certificate of Formation

$200 + time

$200

Professional Filing Fee

n/a

$100

Commercial Registered Agent

varies ($59 with WCRA)

$59

Address Privacy Options

✓

Operating Agreement Draft

✓

Secure Certificate Storage

✓

Mandatory Initial Report

$10 + time

included

Annual Report Reminders

✓

Professional Business Address

✓

Business Phone Service Trial

✓
Benefits to filing your Certificate of Formation yourself
Obviously the biggest pro to handling your own filing is cost. When you hire a business or an attorney to prepare and submit your LLC paperwork, there will be additional expenses over the DIY method. Some companies may charge very little upfront and recoup their costs through ongoing fees, and attorney fees may start upwards of $1000. When you cut out the middlemen, you only pay exactly what the state charges to get your business up and running.
When you file on your own, you also leave yourself the option to pick and choose what services you want outsourced. You have the flexibility to still appoint a commercial registered agent, have a custom drafted operating agreement, purchase cloud-based document storage, or lease a physical or virtual office space. Ultimately this could be the most expensive option, but it does leave each choice fully in your hands to find solutions.
"My first company, I made all kinds of mistakes. Put the wrong name on the filing, sent it to the wrong agency. I was a mess. They came back rejected, and I had to start all over again. I hired WCRA the second time around, and they got everything right. Great service!"

Vince G. Seattle, WA
Benefits to hiring us to file your Certificate of Formation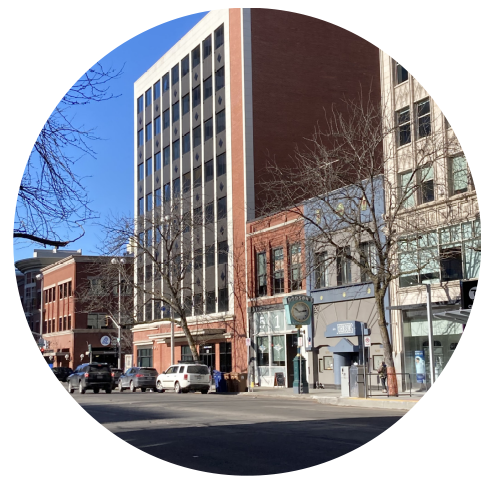 Local Commercial Registered Agent
Our professional filing services are reserved for our commercial registered agent clients, so any business who hires us to form their Washington LLC, also has a local, Washington Commercial Registered Agent. Our standard registered agent services are superb, but we also offer perks that spill over to perks in forming the LLC like address privacy, local support and expertise, and a secure online account to store your business documents.
Time.
The state will generally file a Certificate of Formation the same whether an individual, business attorney, or commercial entity like us submits the paperwork. However, when you hire someone who specializes in Washington business filings and handles them every day, you can count on us to submit the filing accurately and efficiently on the same business day that we receive your order and info.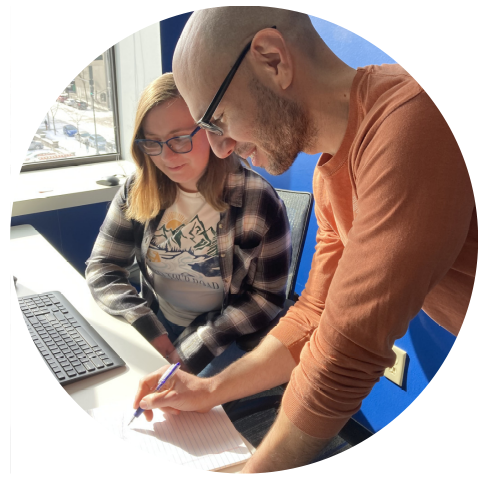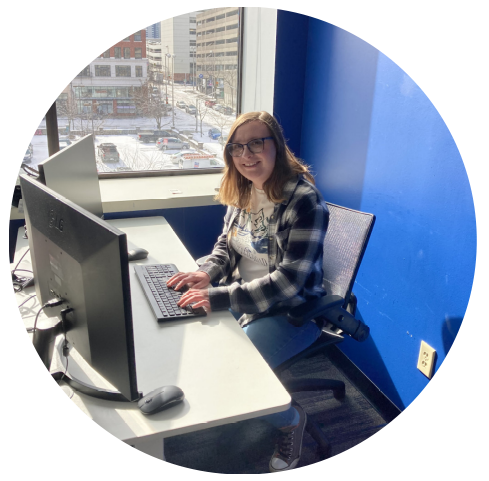 Additional Documents.
Internal documents like an operating agreement and membership certificates are not mandatory to start your Washington LLC with the state, but generally they will be required by other business partners like banks. When you hire us, we include a professionally written template tailored to your LLC, along with membership certificates, an initial resolutions page, and other tools. We plug in the basic info, so you only have to add in a few more specifics, and sign and date everything to make it official.
Business Address.
When we collect your information to start your LLC, we'll list ourselves and our address for your registered agent, but we'll also give you the choice to use our address for other addresses on the LLC filing. The addresses listed for your business are part of your business's public record with the WA Secretary of State. Our clients love the option of privacy rather than listing their personal address. We own our building in downtown Spokane, so you also can rest assured that using our address will mean address consistency for your business.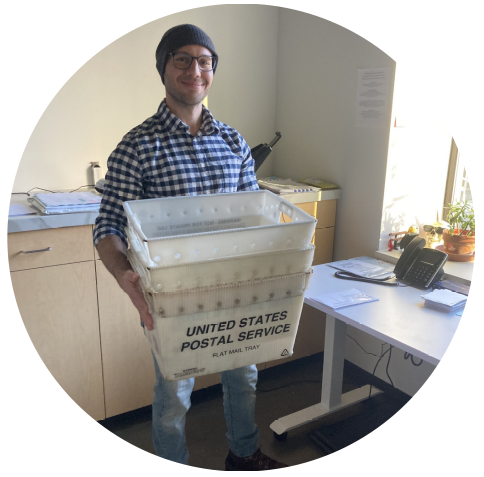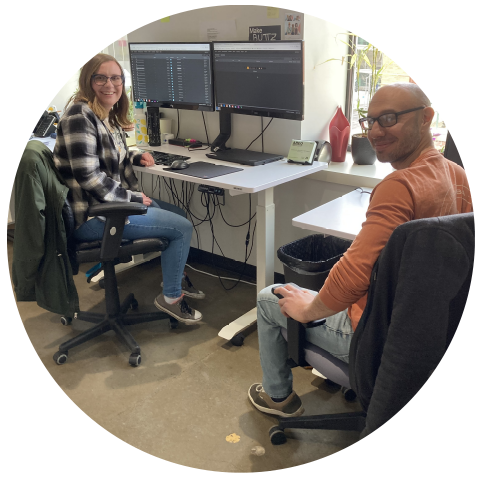 Initial Report.
The Washington Secretary of State requires businesses to file an Initial Report within 120 days of the business formation. Although it's not terribly complicated or expensive ($10), it's just one more thing on the to-do list while you're busy launching a business. When you hire us, we collect the necessary information upfront when we ask for your information to start the LLC. As soon as the LLC is formed, we file the initial report AND cover the state's initial report filing fee at no extra cost to you.
Local Washington Support.
Despite all the cool services we offer at the lowest rates we can mange, we're nothing without our team. Our Spokane-based office is made up of real Washingtonians (even a few originating west of the Cascades). We pride ourselves on understanding the ins and outs of Washington business and love sharing our expertise with new local businesses. Our staff maintains regular office hours and are happy to help you at any step of your business by email, or call us at (360) 252-9551, Monday-Friday.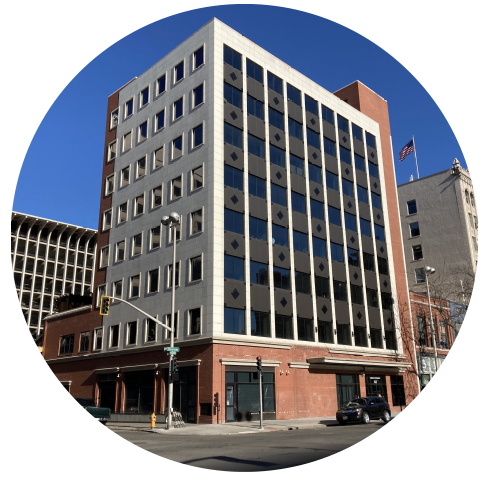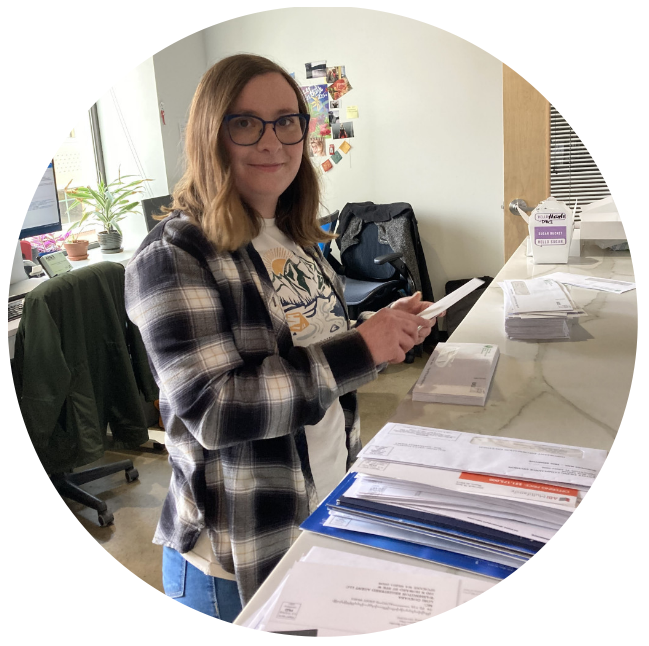 Annual Report Reminders.
After your Washington business is up and running, you must file annual reports by your company's anniversary month. Failure to file means late fees or even dissolution, so you won't want to miss the due date. Our clients enjoy two options:
Automated Reminders– We'll send reminders tailored to your company's anniversary and due date.
Compliance Service– Plan in advance for us to file on your behalf with pre-authorized filings.
Business Phone Service Trial.
A new addition to our ever expanding list of business solutions, we now include a free 90 day phone service trial for all new clients. The business phone service combines the professionalism of a separate business number (complete with text, call and voicemail) with your existing phone number.
Simply select the WA area code of your choice and then manage the setting within the easy-to-use app or you standard account with us. If you decide to keep the phone service after the trial period, it's only $9.99/month. Not bad for an unlimited business line!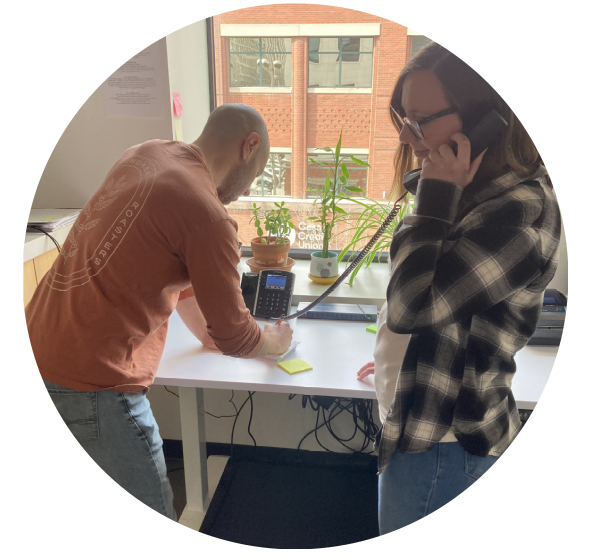 Next Steps for Your Washington LLC
EMPLOYER IDENTIFICATION NUMBER (EIN)
An Employer Identification Number (EIN) is assigned to a business by the Internal Revenue Service for the purpose of paying federal taxes. You must apply for an EIN with the IRS. Once the EIN is acquired, you will use this number for federal withholding for employee wages, as well as paying federal income taxes.
How much does an EIN cost?
You can obtain an EIN for free through the IRS website. If you want someone to do it for you, we charge $50 for the basic online filing.
Am I required to have an EIN for my LLC?
Not necessarily. If you have employees, then yes. If you do not, it depends on what kind of business you are in (any company filing an Alcohol, Tobacco or Firearms tax return, for example, must have an EIN). You can visit the IRS webpage to determine if you need an EIN for your business.
BENEFICIAL OWNERSHIP INFORMATION (BOI) REPORT
Effective 2024, your Washington LLC will be required to file a Beneficial Ownership Information Report (BOI) to the Financial Crimes Enforcement Network (FinCEN). LLCs started prior to 2024 may file their reports anytime in 2024. If you form your LLC during 2024, your report must be filed within 90 days. LLCs created in 2025 and beyond have 30 days to file.
What is the purpose of the BOI report?
The BOI report is a part of the Corporate Transparency Act and was legislated in an effort to crackdown on money laundering and other financial crimes by understanding who is really benefiting from each company.
Are BOI report details public?
No. The required, no-cost report is filed directly to FinCEN on their website and the reports are not public.
Looking to reduce your filing burden? Our professionals will make sure you meet the filing deadline and that the information on your report is accurate for a great price. Our BOI report filing service is just $9.
BUSINESS BANK ACCOUNT
If you intend to process monetary transactions for your Washington LLC, you will need to open a business bank account. It is from this account that you will take in business income and pay for company expenditures, such as paying employees.
What do I need to open a business account?
You will need to contact the bank branch where you intend to open the account. Every bank has its own unique requirements. At the least, the bank will need documents demonstrating that your Washington LLC exists, such as a copy of your Certificate of Formation, and LLC Operating Agreement.
SPECIALTY STATE BUSINESS LICENSE
Not every Washington LLC needs a special business license. Certain industries are regulated by the state government, as well as particular professions. Private investigators and embalmers, for example, need special permits and licenses.To determine if you need a specialty Washington State business license, and to apply for a license, you can visit the Washington State Department of Licensing website (this should not be confused with the Business Licensing Service, which is part of the Department of Revenue).
How much does a Washington state business license cost?
The cost of state licensing depends upon the business you are engaged in. The licensing fees for taxi services are different from the licensing fees for cigarette vending machines. You will need to check the fees with the Department of Licensing.
ANNUAL RENEWAL
After you form a Washington LLC, you will be required to file an Annual Renewal each year with the Secretary of State. There is a $71 filing fee. The report can be filed by mail or online, but online is faster and smoother.
Just like with your initial report, annual renewal reports require confirmation of the members/managers of your LLC.
Why do I have to renew my LLC each year?
The Annual Renewal is simply an update of basic information about your company, such as your LLC name, principal business address, and Washington registered agent. The annual update allows the Business Licensing Service to keep current records concerning your LLC.
When is the Washington LLC Annual Renewal due?
The due date for your Annual Renewal is the last day of the month in which your LLC registered with the Business Licensing Service. If you registered and formed your LLC in October, then you must file annually by October 31.
What if a Washington Annual Renewal is late?
Late filings will be assessed an additional $25 fee. Continued failure to file will result in your LLC being dissolved by the Secretary of State. To help your business stay on track, we offer courtesy compliance reminders for all of our clients, tools to file, and cost-effective services to file on your behalf.
Contact Us Today!
Have questions? We are dedicated to our customers and we do not outsource our service team. You can always reach a real human being right here in Washington ready to answer your questions and work with you to form your LLC.
(360) 252-9551
Or send us an email.
We check our messages constantly and respond within a single business day.